Here's an interesting photo taken recently in Poland . . .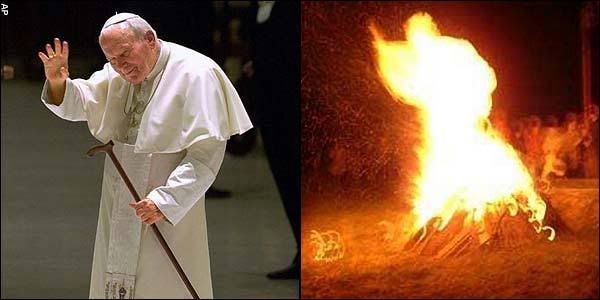 AND UNLESS YOU CAN PROVE OTHERWISE, THE DEFAULT EXPLANATION IS THAT POPE JOHN PAUL II HAS INCARNATED HIMSELF IN A BONFIRE!!!!!!!!!!!!!!!!!!!!!!!!!!!!!!!!!!!!!!!!!!!!!!!!!!.

While credulous theists the world over are once again basking in their own insipidness, a new voice of reason has emerged on the Australian political landscape. I mentioned it in passing on Sunday, but the Secular Party of Australia will be fielding candidates for the Senate in this year's federal election. Jen of Unsane and Safe fame will be running, which is good news, because I vote below the line. I wish her the best of luck: Ganbatte!, as they say in Japan.

As for the party's policies, there is very little that I disagree with, except this one: "We stand against . . . The wearing of religious attire in schools." As long as no one is compelled to wear religious attire, and as long as the wearing of such attire does not hinder the wearer's ability to participate in classroom activities, I don't see how it infringes anybody else's rights. (And the Party does claim, elsewhere on the site, to "believe that people should be free to indulge their beliefs, provided they do not infringe the rights of others.") Indeed, banning the wearing of religious garb, I believe, is just as anti-democratic as enforcing religious observance. (You might say that it amounts to the state overstepping the boundary between church and state.) I'd be interested to hear the thoughts of a representative of the Secular Party on this issue.