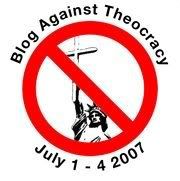 (Blogswarm: see below fold)
The week in fundie . . .
On the subject of theocrats, another Blog Against Theocracy blogswarm has been planned for July 1-4, 2007. Here's what to do:
1. Post to your blog about the separation of church and state. If you want to point your readers to something they can DO about the religious right, send them to the First Freedom First website and ask them to sign the petition. First Freedom First is not a sponsor of this blogswarm, but they have been a very very helpful resource, and Blog against Theocracy would like to return the favor. You may wish to tag your post "Blog Against Theocracy."

2. send an email to

blogagainsttheocracy.july07 AT blogger DOT com

The SUBJECT LINE of your email will be the NAME of your blog. I would type for my subject, "Blue Gal". Don't use all caps or any extra lines. It won't get picked up.

The BODY of your email should have ONE thing in it: The url for your post. Blogger will turn this into a link automatically. Make sure you post the full url, including the http, etc.

I'm sorry, but that's all you're allowed to email. Longer posts will be truncated, and if they're not, BAT staff will edit them. We have to be fair to everyone participating. We'll also be watching for spam and deleting that as it arrives, so don't feel you have to email me if you see any violations or spam on the site, we'll get to it.

I've tested this system and the biggest problem is getting the darn email address correct. It's AT blogger DOT com not AT gmail DOT com. And make sure you have a period between the blogagainsttheocracy and the july07, and that you spell theocracy correctly. (even I screwed up in this post. Be aware it's july07 not jul07. See?)

You may email blogagainsttheocracy AT gmail DOT com if you have any questions or problems.