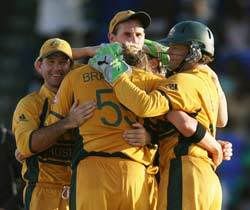 Did I speak too soon? About a month ago I pooh-poohed the Aussies' chances of securing a third consecutive cricket World Cup, after a dismal session at the crease in the first match of the Chappell-Hadlee series against New Zealand--a series they went on to lose 3-zip. (Making it a five-match losing streak for Australia, who lost the Commonwealth Bank tournament 2-0 to England in early February.)

Since then, Australia has won five consecutive encounters--three of them, admittedly, against minnows such as Zimbabwe, Scotland and The Netherlands, but they also defeated England by 5 wickets in a World Cup practice match. And Australia's return to form has this morning culminated in a win over world No. 1 South Africa by 83 runs. That means that Australia will finish undefeated on top of Group A, and will meet Group D runners-up Ireland next Tuesday. (Yes, you read that correctly.) (According to the ABC, they face the Windies on Tuesday. According to Cricinfo, the top-ranked team in Group A plays the runner-up in Group D. Go figure.)

It has been an interesting World Cup: Pakistan have already been eliminated, and India look to be heading the same way (unless Bermuda defeats Bangladesh tomorrow). Most of the other top nations will still, as expected, be there for the Super-Eights, and I think New Zealand remains Australia's biggest hurdle, given their psychological edge.

The other worrying factor has been Mike Hussey's form slump. Apart from the 15 he scored against Zimbabwe in the practice games, his most recent figures have been 0, 4, 2 and 5.