In the previous post I alerted you to the existence (well, once upon a time) of the giant sea scorpion. In this post I present you with the giant Australian rightwing cockroach, which--alas--is not extinct, but alive and well in the Liberal Party. (Actually, that's a slur on giant cockroaches. Sorry, guys.)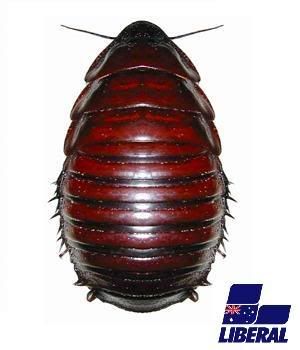 From the ABC:
The Liberal Party has expelled two members and notified the Electoral Commission of an incident involving election campaign workers distributing material it says is false and offensive.

The party says around five people were handing out the flyers last night in the seat of Lindsay in Sydney's west, when they were caught in the act by Labor Party members.

The ABC understands one of the people involved in the distribution of the offending material is Garry Clark, the husband of the retiring member, Jackie Kelly.

The flyer purports to be from the Islamic Federation of Australia, a group which does not exist, advocating a vote for Labor.

The Liberal Party's state director Graham Jaeschke says the material was unauthorised and made without the knowledge of the Party's head office.

"This is unacceptable behaviour. We've acted very quickly to fix this issue," he said.

"We've referred it on to the Australian Electoral Commission and we'll let the Australian Electoral Commission do their job."

Mr Jaeschke says the party does not condone the behaviour.

"It was undertaken without any authorisation or knowledge of the Liberal Party," he said.
Party behind in the polls a week out from the election? Here's what you do:


Invent an organisation with "Islamic" in the title, knowing how likely this adjective is to set off big flashing red warning lights in too many xenophobic outer-suburban Sydney brains.


Print a flyer, purporting to be a publication of said phony "Islamic" organisation, advocating a vote for your opponent


Reap the electoral rewards.



Oh, I know what you're going to say. You're going to tell me to give the Liberal Party credit for expelling the racist arseclowns behind this stunt. Well, I'm not going to. Because if the Liberal Party can attract into its fold individuals who consider this kind of behaviour conscionable, then that speaks volumes about what the modern Liberal Party has become.

See also: The Age