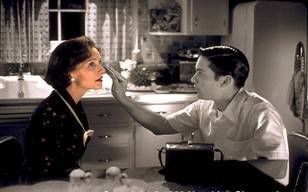 Small-town USA is certainly not a healthy place to be a minority teenager, particularly if you're all "uppity" about defending your rights as a citizen in a functioning liberal democracy. We saw what happened to the Dobrichs, the Jewish family run out of town in Delaware for voicing their opposition to religious proselytism in their children's public school. We saw what happened to the atheist student Matt LeClair when he took a stand against Bible-bashing in his high school history class. And now a hat-tip must go to Cheryl, who informs us of C. J. Bills, a victim of gay-bashing who was subsequently railroaded by his school administration who were simply not interested in his attempts to have something done about homophobic bullying in the school:

We Belong

Producer: Joe Wilson


This is the story of two rural teens who had the courage to stand up to bigotry and intolerance in their schools – and the determination to tell their stories to the world.

Homophobia is one of the last "permissible" forms of prejudice. Its effects are especially acute for youth, who often suffer alone and in silence. Two thirds of gay, lesbian, bisexual and transgender youth experience harassment or violence in school, and the suicide rate for this group is four times the average.

When C.J. Bills is gay bashed in the school locker room, then arrested for disorderly conduct because he protests to an administrator about the harassment he has experienced, he decides to fight back by making a documentary about discrimination. With his family's help, he also initiates an investigation by the state human rights commission and shames the school district into developing an anti-bullying and diversity training program.

C.J.'s documentary project also leads him to Tim Dahle, a former high school student who challenged the years of anti-gay harassment he suffered in a neighboring town. In Tim's case, the school district that failed to protect him agreed to one of the largest sexual harassment settlements in history, sending a signal to school districts around the country that such behavior can be costly.



We Belong

demonstrates that young people have the power to change their communities and the world, and that helping youth to tell their stories, in their own way and on camera, is enlightening, empowering, and effective.

More at
The Derrick
. You can view the short film
here
.